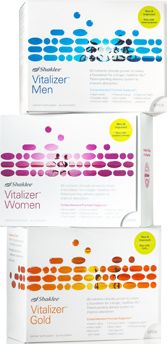 We use Vitalizer -- it is so handy. One strip of vital nutrients for your day. You use it at home or it is great for traveling. It gives us the confidence that we are getting the nutrients that we need and they are all absorbing. Our health is outstanding!
Vitalizer has 80 bio-optimized nutrients clinically proven to create a foundation for a longer, healthier life*. Shaklee science brings you a new daily nutrition program. It is protected by 12 patents and 2 patents pending, and it is available only from Shaklee.
Each Vitalizer consists of 30 Vita-Strips containing:
* 2 Vita-Lea tablets
* 2 Caroto-E-Omega softgel capsules. New! Available only in Vitalizer
* 1 B+ C tablet, a new product. New! Available only in Vitalizer
* 1 Optiflora Probiotic Beadlet
Along with the Vitalizer we use NutriFeron for our immune system, Cinch Shakes for energy and keeping trim and of course Vivix the antiaging supplement that is more powerful than Resveratrol alone. Since taking Vivix, I sleep better, have more energy and stamina and arthritis is improving. I wouldn't give up these supplements for anything. Together they are called RX for a healthier life. Put them on Auto ship and receive 10% off and an online coupon for a product of your choice for only $10. A great deal!
If you are interested in listening to information regarding Women's Health, Men's Health, Raising Healthy Children, Blood Sugar, The Shaklee Difference and more, Here is a link that will take you to recordings regarding health issues http://media.dalyhealth.com